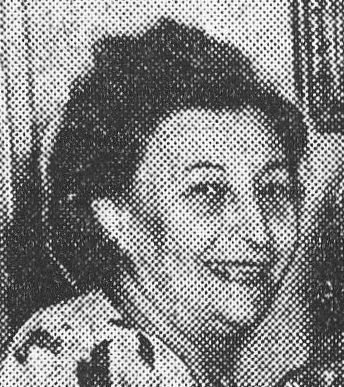 Granny
I stood in the doorway to the living room, a few days after my sixth birthday, transfixed by the sight and sound of dancing needles. As I watched, three sets of steel knitting needles greedily swallowed up straight lengths of wool and spit out incipient booties and bonnets. Someone in the family was expecting a baby.
I waited, awestruck by the speed of Auntie Ethel's knitting, her yarn and needles flying effortlessly through the air. Granny's hands and needles were a blur; the booties she was knitting took shape magically, right before my eyes. Mom was the slowest knitter in the circle of three. Her motions were not as fluid as those of Granny or Auntie Ethel. But her methodical technique was still effective.
After what felt like a long while - although it was probably not more than a few minutes - Mom glanced up and caught my eye. I held up my knitting kit - one of my birthday presents - and pleaded wordlessly for permission to enter the room. My patience was rewarded with a silent nod that directed me towards the empty footstool.
Mom put down her own knitting and knelt beside me. She placed a loop of yarn on the needle in my left hand, and placed her own hands over mine as she showed me how to cast on stitches. Painstakingly, I added stitch after stitch, until the loops of yarn threatened to overflow the needle. Now what? I looked up inquiringly at Mom, who then showed me how to form the basic knit and purl stitches.
The afternoon wore on. Finally, Granny, Mom and Auntie Ethel put down their needles and assembled the results of their labors - three complete sets of booties, bonnets and baby jackets, one each in yellow, green and white. I held up my needles for their inspection, revealing a knitted yellow ribbon that was one foot long and half an inch wide. Mom took the knitted ribbon, attached it to the yellow bonnet, and held it up to approving nods.
I danced up and down with excitement, and ran to hug Mom, Auntie Ethel, and last of all, my grandmother. I was now a knitter - a member of Granny's knitting circle.
©2013 Phyllis Entis. All rights reserved.
A Note of Explanation:
We were challenged to write a scene that contained absolutely no dialogue whatsoever. No 'he said, she said.' I always was amazed by the speed and dexterity with which Granny and Auntie Ethel knitted, and by the beautiful items they produced. The knitting circle was unofficial. The story - especially the silence - is fictional. My love and admiration for all three of these women was, and remains, real.